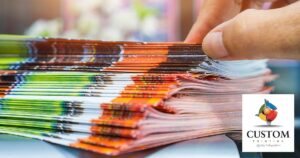 Booklets are a great way to interest your audience in what it is that you do – or what it is that you offer. Whether the booklet is four pages or 40 pages, Custom Printing, Inc. can work with you to create the quality look and customization that your business or nonprofit needs. It allows you to confidently distribute booklets knowing that they will offer a positive and lasting impression.
We offer a wide array of finishing services to ensure you get a premium look that you're proud to share. You can choose to send us a print-ready PDF or work with our design professionals to get help every step of the way. No matter what, we promise you'll love the finished look.
High-Quality Custom Booklet Printing
High-quality lithographic printing can turn your custom booklets into sharable works of art. Whether you need small or large quantities of booklets, we have the means to help you every step of the way.
When you want vibrant colors that show off every detail within your images, we can show you the magic of lithography. This way, your audience can turn the pages to be mesmerized by all that you have to offer.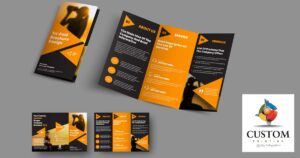 The possibilities for booklets are endless. You can use them in several ways:
Training
Annual reports
Instructions
Pictures
Products
Coupons
Individuals, businesses, and nonprofits are all using booklets because they are an effective way of sharing information without overwhelming the person who is on the receiving end of the information.
Digital Printing Services for Custom Booklets
Digital printing is an alternative to lithography that can also be advantageous when you're printing off booklets. Depending on how many booklets you need, this can be the more affordable option – and there's room for more customization for various audiences as well as if these are going to be directly mailed out.
Booklets can be packed full of information or take the form of workbooks, calendars, and more. Whatever it is that you're creating, we'll show you what digital services are available to take your project to the next level.
How Custom Booklets are Used?
It's important to understand how custom booklets can be used to help you reach your goals.
They're used by various audiences:
Businesses
Nonprofits
Lecturers
Realtors
Artists
Any time you want to present more than one page to someone, a booklet can be a great solution. It's smaller than a book, so you don't have to worry about high costs or creating too much content.
You can choose to keep the pages small, too. This way, you provide people with just enough information in a size that is easy for them to transport.
With the various printing and binding services that we offer, you can customize your booklet based on what's important. Are you focused on sharing full-color images? Do people need to be able to make notes inside of the booklet? Understanding how your booklet will be used will allow you to determine what specifications are the most important to you.
Do You Need Custom Booklet Printing Services?
Choosing a printer for your custom booklet printing services is critical. You want premium printing at affordable prices – and with a turnaround time that allows you to meet all of your deadlines. Custom Printing, Inc. is here to help you with your booklets as well as any other print services that you might need. Get started by uploading your file or by calling us to learn more about our custom services.
FAQs for Custom Booklet Printing
We understand that creating custom booklets can be a daunting task. We're here to help you – and we've answered some of the most frequently asked questions to help provide you with direction.
How is a booklet made?
A booklet is made by combining all of the pages together so that images and content are easily read by your audience. A variety of programs are available to help you with the design layout. You can also call us to learn more about creating your custom project.
How are pages arranged for booklet printing?
The pages should be arranged in sequential order within your PDF. As you go through the custom ordering process, you can also identify whether you want the pages printed one-sided or two-sided.
How is a booklet printed?
A booklet at Custom Printing, Inc. is printed to your specifications once you submit the print-ready PDF. You can also choose to work with one of our print professionals to get help every step of the way. We'll provide you with options and recommendations – and then send the project to print.
What are the print options?
You can choose to have your custom booklets made with lithography or digital printing services. There are pros and cons to both depending on the quantity you're looking for and what colors you will be using to create your booklets. Lithography uses wet ink and metal plates while digital printing uses a print image that is transferred with toner and ink. Particularly if you are looking for a small batch, digital printing is often the more affordable option.
Are there size limits for a booklet?
Not really. Because there are so many binding options, you can choose the one that works best for the number of pages that you have.
The real fun is when you can choose different sizes based on what you're presenting. If you're creating a full-color coupon book for tourism purposes, you might want to go with something small and compact, such as 5.5" x 8.5." Then again, if you're looking to promote your artistic works, you may want to go with a full-color booklet that is 11" or even 14" in length.
What are some of the options when printing a booklet?
When you're printing a booklet, you're in control of the details. You can determine what size it is going to be, how many pages it will contain, what type of paper (glossy vs. matte), and even whether you want it to be in B&W or full color.
What are some of the finishing services?
A variety of finishing services are available to ensure you love the finished version of the booklet. One of the most important aspects is how you want the booklet bound. Depending on your budget and the number of pages, you may want to choose a simple staple down the spine. Otherwise, you can explore saddle stitching, perfect bounding, spiral, or wire-o binding.
Contact Custom Printing Today
If you are looking for a variety of custom printing services in California then you have come to the right place! Contact us today for any of your custom booklet printing needs.