Paper is one of the most versatile forms of mediums in the world. Beyond its uses for writing and communicating, paper can be made into a representation of almost anything you can envision. As children, we used them to create drawings, airplanes, boats, and mini footballs for finger field goal games.
However, as adults, we can see the true value of paper beyond playtime. Now, we understand it to be one of the most powerful marketing and informational tools that are tangible, and printed brochures are an ideal way to get your message across.
Professional brochure printing is pivotal in making a lasting impression and promoting your brand, but did you know that the fold of the paper stock makes a difference, too? Depending on the information being presented, the space you are working with, and the amount of data might influence your decision on styles. Let us discuss the seven top types of brochure folds to consider.
#1 – Bi-Fold Brochure Printing
This is your most basic fold that perfectly divides the stock or paper in half to create four panels to potentially work with. Bi-fold brochures can open horizontally or vertically depending on your preference. This is the most common option used in foldable print media and is the most affordable and simplest to manufacture.
Bi-fold brochures are the ideal choice for companies looking to send thank you cards or invitations in bulk. Optimally, you will use card stock for this type of printing to ensure longevity and secure shipping if the cards are to be used for print mailing.
#2 – Tri-Fold Brochure Printing
Tri-fold brochures are only folded two times and is the type that you would typically see in letters or bills in the mail. The page is divided equally into three sections and a fold is made along the left and right sides. The folds go inward and atop each other, and generally the right side is flattened first and topped with the left side.
This layout creates a flow for readers that makes sense and is naturally presenting the information in an orderly way. Tri-fold brochures are a good choice for retailers, seminars, and educational purposes, and colors will only enhance the impact of the material.
#3 – Z Fold Brochure Printing
The Z-fold brochure is similarly folded in the same fashion as a tri-fold brochure. However, instead of folding the right side of the trio inward, it will be folded backward to create a total of six printable panels. When these are opened and standing on the rim, they resemble the letter 'Z'.
Z-fold brochures are highly versatile, and elements can be divided, and the brochure opens in the proper reading sequence. They are also an exceptional choice for those presenting large charts or images to make a bigger impact or break down large chunks of pertinent details.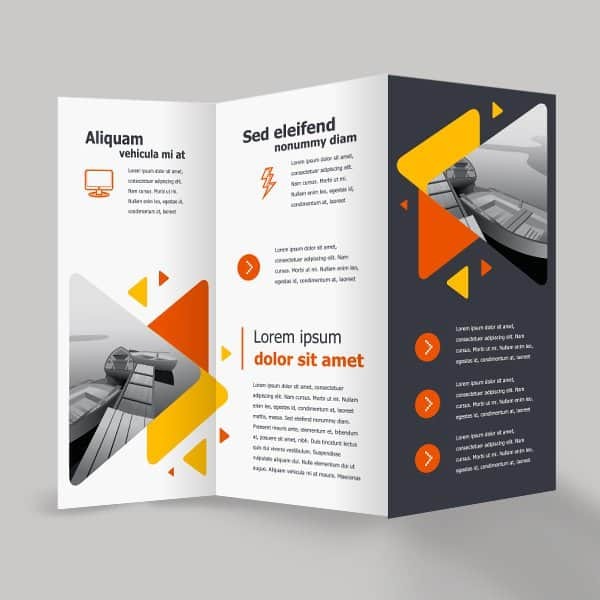 #4 – Accordion Fold Brochure Printing
Those wanting to share a multitude of divided information or present large graphics often choose and accordion folding brochure style. They are compact, easy to hold and make a stellar impression. Typically, a page-sized 8.5 x 14 x 11 inches or 17 x 11 x 25.5 are folded in three evenly spaced sections.
Each section is then folded into a zigzag pattern with each fold-point bending in opposing directions leaving a flat front ready to open and a solid backing. If you need a lot of space or want to break down fine details separately, accordion folds are an optimal design choice for printing purposes.
#5 – Double Gate Fold Brochure
A double gate-fold brochure begins with a traditional gatefold style. A gatefold involves folding two ends of the paper inwards until the edges meet in the middle. This results in a large center section with two small panels on the sides that resembles a gate that could be opened.
With a double gate design, this setup is folded once again along the seam where the flaps meet. This creates eight panels ready for design, and a sticker of your logo or image completes the double gatefold pristinely.
#6 – Double Parallel Fold Brochure Printing
Doubling down on this type of brochure is certain to attract attention from viewers. The folding method is simple but leaves you with ample space to divide up important information. A double parallel-fold is literally what it sounds like: fold the paper in half and then do it again in the same direction.
This lines up two sections in such a way that you get eight panels out of the fold, which is ideal for large graphics or promotions. To boot, it is easy to mail this in a small envelope.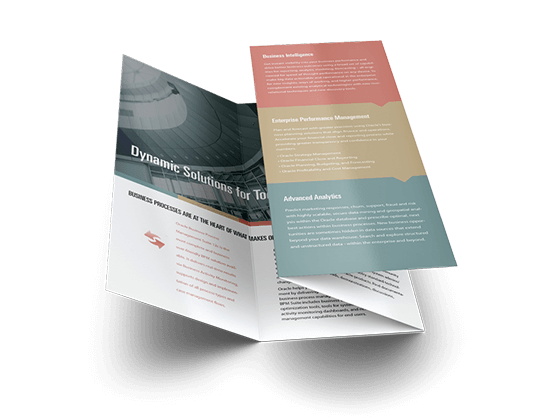 #7 – Map Fold
To obtain the classic map fold, you professional printers with fold the brochure similarly to that of a gatefold, but each panel will be equally divided to create a total of six visible panels. Therefore, there are plenty of opportunities to present a wealth of information that is easy to follow. The map variety can be an exciting option for full-color printings, and the innovative design invites recipients to keep the information handy for future reference.
Where Can I Get Professional Brochures Printed?
Reliability and quality are pivotal when you are looking for a company to trust with your printing needs and direct mailing services. Since 1975, Custom Printing has been the first choice for businesses across the nation. Whether you need trade show collateral, catalogs, flyer campaigns, booklets, or a simple one-time ad, our experienced designers and printers will work one on one with you to achieve the goals in your vision.
We even offer complete fulfillment services that are fully automated that make your campaign run smoothly and on time. If you need any type of printed goods to scale up your business, give us a call for a complimentary, no-obligation consultation at 805-485-3700 or contact us today.