Digital printing has taken the printing industry by storm because of all of the new capabilities being offered. You're able to obtain high-quality printing that is faster than ever. There are no metal plates or rollers to set up, so you can get a faster turnaround. Digital printing can be used for low and high-volume jobs, and since the ink doesn't soak into the substrate, it creates more opportunities. At Custom Printing, Inc., we have come across quite a few print projects that are made possible with
digital printing
.
#1: Die Cut Projects
Digital printing allows you to step outside of the traditional boundaries. Forget about being limited to square and rectangular projects. When you want to use
die-cut projects
as various marketing tools, you can do so. From paper fans to cardboard masks, you can think outside of the box. Choose
vibrant colors
and ensure that you can print as many as you need – by the hundreds or the thousands, ensuring that your marketing material gets into the hands of as many as possible.
#2: Cardboard Stand Ups
Cardboard stand-ups can be a fun way to bring a character to life. Whether it's your company mascot, a celebrity who has endorsed your product, or even your CEO, you can have their likeness printed on cardboard. The fun of the standups is that they can be as large as you want them to be. Make them life-size or have them printed so that they can sit on your counter or as a centerpiece on tables. These will be a way to market and attract the eye – and you may find that they can end up helping you with your social media status, too. They tend to be a magnet for selfies.
#3: Business Cards to Remember
Anyone can hand out a business card. You need to think about how you're going to stand out. Digital printing allows you to bypass the standard business card in terms of size, shape, and even weight. Extra-thick matte stock can ensure that your card isn't going to get bent up in someone's pocket or briefcase.
Metallic ink
can catch the light and, therefore, the recipient's attention. Rectangular cards are only one of your many shape options. Many people are choosing square cards because they're different. Of course, if you wanted to go with a trapezoid, a triangle, or anything else, it's possible with digital print methods.
#4: Traveling Heads
Traveling heads are becoming more popular – though they're referred to by all names. Have you ever promised someone a unique experience when you go out of town? You can take their likeness with you. Through digital printing, you can get a face printed on card stock in the shape of a head. It's lightweight enough to slip into a backpack or suitcase. Then, you can hold it up in front of the camera to take a picture with the person who couldn't make it. Even businesses are using heads. Fill an auditorium with heads for the people who couldn't make it to the show. Add a head to the wall of your store to go along with an online review that you just received. The creative ways to use traveling heads is never-ending, and you can have as many as you want printed off digitally.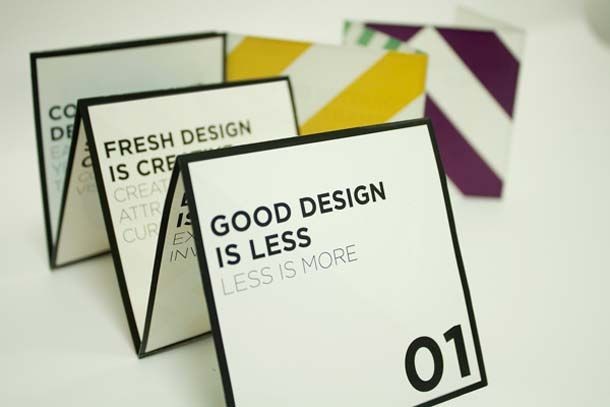 #5: Uniquely Shaped Brochures
You should always be looking at ways to stand out. Digital printing can make it easy for you to have fun with the shapes of brochures. Instead of having your audience open up a traditional rectangular brochure, you can have them open into a rhombus or another shape. With personalized copy and a fun layout, you can be sure that your marketing materials are just as original as you are.
#6: Last-Minute Flyers
Flyers need to look sharp at all times because they represent you. That means that there's never a reason for you to shortchange the quality by printing off B&W copies that may be askew and poorly printed. Full-color flyers can be printed quickly with digital print methods because they don't require the same time-consuming processes used by offset printing. Whether you need flyers by the dozen or by the thousands, you can have them printed while achieving virtually any deadline that you might have.
#7: Direct Mail Postcards
Mailing your marketing materials directly to your target audience can be one of the most cost-effective ways to get a return on your investment. You don't want to send just anything to your audience, though. With digital printing, you can think outside the box. You can manage your contact database in conjunction with the print, allowing you to personalize the messages and/or images. When your audience feels as though they're getting special attention, they'll be more apt to connect with you. Plus, postcards can be of varying materials, offer cutouts,
coupons
, and more.
#8: Marketing Rack Cards
Rack cards are an effective way to market. These can be placed in hotels, trade shows, and even within your physical location. As people take the cards, you want them to remember you – even after they've lost the card. The best way to stand out is to be different than the other rack cards. Don't hesitate to change the shape or size of the card. Show off your creative streak with metallic foiling or embossing your logo. Particularly when you want to promote yourself as a luxury brand, you have to be willing to show that off – and marketing rack cards can be printed with premium features while still staying within your budget.
#9: Presentation Portfolios
Stand out when you're going to be making a presentation. You don't have to stick with the traditional 8.5×11 printouts. Whether you're trying to wow investors or show off to a potential employer, digital print methods can offer a variety of finishing touches including:
This way, you can print out as many as needed while presenting yourself in a flawless way.
Do You Need a Professional Digital Printing Service for Your Project?
Work with
Custom Printing Inc
for a finished product you can be proud of. We have used our decades of experience with offset printing and combined it with our cutting-edge equipment to ensure you get the quality and speed that you need. Regardless of the quantity of items you're printing, we offer an environmentally friendly process that is also affordable. It's a sure way for you to stay on budget while producing stunning printed materials to help you with marketing and more. Let us show you how we can provide you with professional quality materials. Upload your file to get started or call us to discuss your project in detail.