Have you ever wondered by what method your business cards, letterhead, wedding or party invitations, company polo shirts, or even the wrap on your company car are printed? Printing method is the difference between plain newsprint and the raised lettering on invitations.
The 20th century saw technology's advancements dictate every industry's advancements. Printing was only one with digital printing as an example. What are some types of printing, and for what are they best suited?
What Is Offset Lithography?
In offset lithography, an aluminum plate is fabricated with the image to be stamped on rough media such as cardboard, canvas or plastic bags, and paper. The image is then transferred or offset onto rubber. The media is then passed through the printer whereon the image is inked and pressed onto the flat media.
Offset lithography is done in both black as well as in four colors. In large orders, rolls of paper, cardboard, plastic, or other flat media are used in print. For example, if you ship your product in cardboard boxes, then this is the type of printing used on them.
What Is Digital Printing?
Many of us have printed off mailing labels or envelopes, newsletters, and internal memoranda for our company on small personal printers. However, we often don't recognize the type of methods used to print the menu we're reading or the posters in the restaurant, not to mention the signs we read everywhere we go.
Two types of digital print methods are used the most: inkjet and laser. Obviously, inkjet uses ink on paper, posters, signs, and plastic. Laser print uses an electrically charged drum to attract toner particles which are then applied to the media in the design sent electronically to the printer in PDF form.
Digital printing services are used on everything from books to plastic grocery bags, from restaurant posters to outdoor signage, and from textiles to flooring choices. It's quicker and involves no plates or rubber rollers.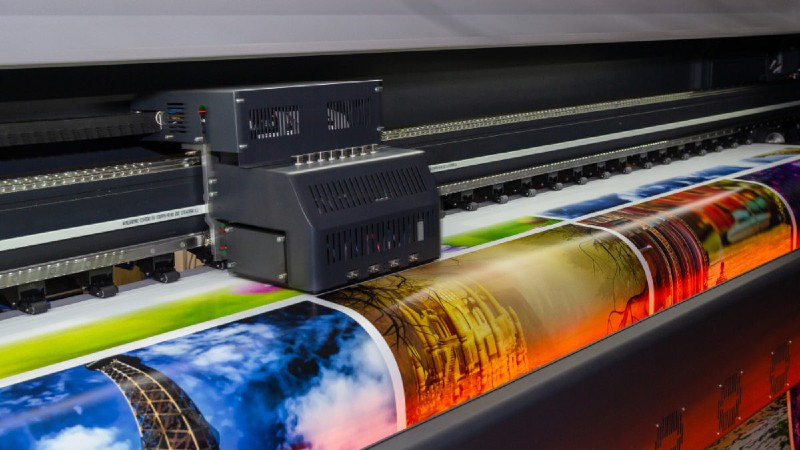 What Is Small Format Printing?
Small format printing is what you do when you print off a letter or report. Anything below 13 x 19 is considered small format. Stickers and labels, business cards, marketing materials like postcards, brochures, and fliers are considered small format printing. Small format is quick and easy, can be used on a multitude of media, and is great for both small and large orders.
What Is Large Format Printing?
It's by what billboards, canvas banners, engineered hardwood floors, etched glass, and vinyl products are printed. The printer is either a flat-bed or a roll-to-roll. You can't print glass or wood on a roll-to-roll, so these are printed on a flat-bed printer. Promotional banners and vehicle wraps among others are printed on the roll-to-roll printer.
What Is Wide Format Printing?
Large and wide format printing differ in that both are large, but wide-format printing uses a table moving beneath a flat-bed printer, or the media is fed into a flat-bed printer using inkjet. You'll find murals, wallpaper, back-lit film such as restaurant menus over the kitchen window or movie signs at theaters, or wraps on large vehicles like trucks printed in this manner. The sizes of wide format printing is between 18 and 100 inches.
When you have printing needs, call upon a company like Custom Printing with 45 years of experience, advances with the technology, is certified green, and offers every printing, binding, mailing service you need and will be happy to work with you.