With so much being done online, it is sometimes easy to overlook that need for commercial printers, but having professional physical copies of everything from
marketing and advertising materials
, to training aids, to sellable publications for your business can make a big difference when it comes to growing your business and building a strong reputation. You also want to build strong partnerships with various vendors you work with, so it is important to choose these relationships carefully. You want them to get the job done, and you want them to represent values that are strong and similar to your own. That includes which
commercial printing company
you choose. But what exactly should you look for? They're all professional, right? Well, yes and no. They bring different levels of experience, service, and quality, depending on how long they have been in business and how serious they take their own business and their customers. Here are a few things to keep in mind when picking a commercial printing company
Check Their History in the Business and Service
A specific business may conveniently have an established date all handy on their website, but if this is a company you hope to work with on a regular basis, it is worth the effort to dig a little deeper. What are the names of the owners or founders? Did they own similar businesses? What were their reviews like on places like Yelp? Did they run similar businesses in the past? Have they worked with businesses similar to yours and have they been able to maintain good customer service? With commercial printing, more often than not you are looking for a new business relationship, so it is important to ask all the questions you need to in order to set you up for a quality relationship
Product Quality, Technology, and Range of Services Available
When you hire a commercial printer for an initial job, it may be something simple, like event posters or flyers or a brochure. But if your business is in the process of growing, your needs could get bigger too, and you want to make sure that your printer can handle whatever you throw at them. Ask questions about their printing equipment and make sure that their can do the heavy lifting if necessary. Ask to see work samples to assure they are ready for what you give them.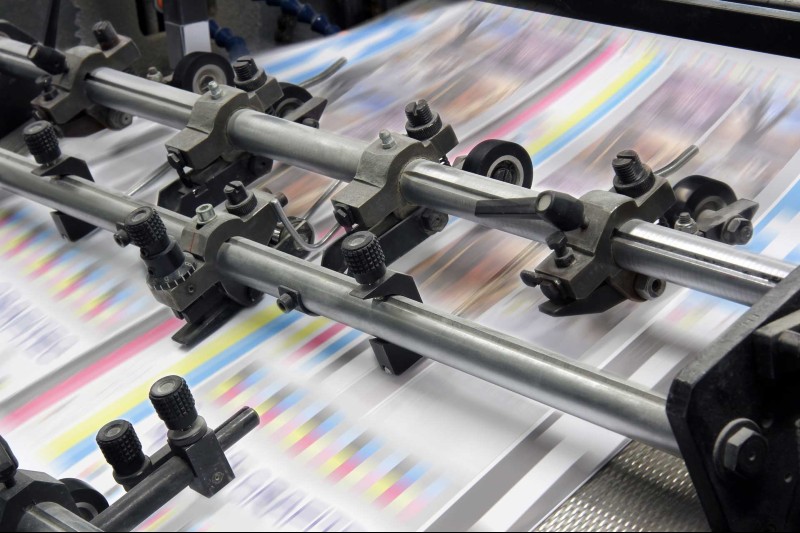 Assure That They are Professionals When it Comes to Communication and Security
Your commercial printer may be privy to important information before the general public, and if your materials are only distributed internally, confidentiality may be even more important, make sure that they have a system in place that allows for top security when sensitive materials are involved. See that they properly dispose of any duds that might be printed by mistake and that they can properly communicate with authorized staff about whatever project they are working on. At Custom Printing, we understand how important privacy and security can be, and we work hard to keep your information safe and secure.
Get a Full Understanding of the Price
Some companies may advertise really great-looking specials in order to get customers in the door, and if all you need is a one-time generic job, that may be fine for you. If you need more than that, the fine print becomes very important. Some commercial printers start low, but nickel and dime every "extra" service leading to a much bigger price along the way. A commercial printer that is interested in developing a long-term working relationship with you or your business will talk openly about price options and will be open to negotiations on price without sacrificing quality. Also, if the price seems to be too low, make sure to ask questions to assure that the job can be done.
Efficiency and Flexibility
Of course, any company you do business with should come through and do the job asked and in a timely manner, but sometimes things go a little awry. You may suddenly need extra material printed, and you want to have the ability to communicate with the printer in order to adjust your order and meet your needs. Sometimes there may be unexpected snags on the printer's end as well, and you want to make sure you are working with a commercial printer that can roll with the punches and still come through. One thing to ask about is the company's capability to adjust a job by printing extra copies using on-demand printing, so an additional large order does not need to be ordered.
Sustainability
Caring for the earth is a responsibility we all share, and when it comes to the commercial printing business, a conscious effort needs to be made in order to assure that the business is as eco-friendly as possible without sacrificing service. At Custom Printing in Oxnard, CA, we hold a certificate with the Forest Stewardship Council, the gold standard for environmental responsibility within the industry. In addition, we place a high priority on the sustainability of our practices, including recycling, energy management and waste reduction to keep our eco-footprint as small as possible.
An Oxnard Printer You Can Trust
At Custom Printing in Oxnard, CA, we offer top-of-the-line equipment, professional service, and cultivate great relationships with our customers so that they can get the most out of our service. We have a strong reputation, and a long history, going back to 1975, and provide printing services for posters, direct mail,
trade show materials
, booklets, catalogs, and more. We can also print banners as large and 64 inches by 160 inches. We also provide less grandiose service, like sending out direct mail letters or handling on-demand digital printing from your PDF or similar files. Regardless of what you need from a commercial printer, at Custom Printing we are ready to provide it at a reasonable and competitive price. We will look specifically into the needs of your business and will provide a fair quote for services that are tailored to you. To learn more about all our services, or to get a quote for your project, contact us at Custom Printing Inc in Oxnard, CA at
805-485-3700
to get a quote today.