Large format printing is a digital printing format that typically requires the finished product to be a size of between 18'' to 130''. This is also commonly referred to as wide format printing. Prints that are larger than 120'' are commonly known as the "grand format" amongst many professional printers.
Printers Used for Large Format Digital Printing
Roller Printers
Roller printers can create many Large-Format prints. The roller printer makes use of flexible substrates, to print any materials which are available on rolls, such as canvas and banners. The process involves loading a roll material on one side while being linked by an uptake roller. Roller printers are suitable for flexible materials, and production is faster. Streamlining the process helps to avoid interruption in printing.
Flatbed Printers
Flatbed printers are rigid printers that lay on a flat surface. Professionals will then make use UV light to transform liquid Ink into solid Ink. This is usually the best option for printing directly on thicker substrates.
The Printing Process
The large-format print process takes less time to print any design or colored images. The press typically uses large nozzles to lay toner. The ink is then applied over the toner, creating the perfect finished product. The process results in a high-quality print on images or graphics.
It should be noted that proper file preparation is essential to achieve a high-quality print. Custom Printing uses a high-resolution file to produce a quality image. The files are prepared to accommodate the standard CMYK breakdown.
Why You Should opt for Large Format Printing
Tangibility
People respond better to something that they can feel and see. In many applications, printed materials can function better than social media ads, which appear in seconds and then disappear. A person has adequate time to visualize the product or service being advertised.
Easier to Target a Specific Market
Print helps an entrepreneur to market products more effortlessly. An individual can print banners and posters targeting a specific audience, such as schools or local businesses. Brochures can be distributed to increase brand recognition.
The Format's History
Iris Graphics Model 3047 inkjet printer was the only option for large format print in the early 1990s. At this time, the art of photography was gaining popularity due to advancements in the technology. The only challenge for large prints was that the Iris 3047 was expensive, both in initial purchase and in overall usage and maintenance. On top of having high maintenance costs, the prints produced wouldn't last for an extended period of time.
The need for a more permanent print option led to the invention of better printers. In the early 2000s, quality format printers started to make their way onto the market. These printers had higher quality ink, compared to that of Iris 3047. During this period, the many large format printers were still using Encad Novajet (format inkjets). Today, many digital printers instead make use of Dye Sublimation and Solvent UV.
In the last 15 years, advancements made in technology has been significant. The invention of flatbed printers, for example, has led to more permanent and long-lasting large format prints. These printers use inkjets for UV solvents inks and are capable of producing prints that are abrasion-resistant, and considerably more durable.
Additionally, these printers are extremely economical, primarily when producing a large number of prints than screen printing. At present, large format printers are extremely capable of producing large signage, and artwork.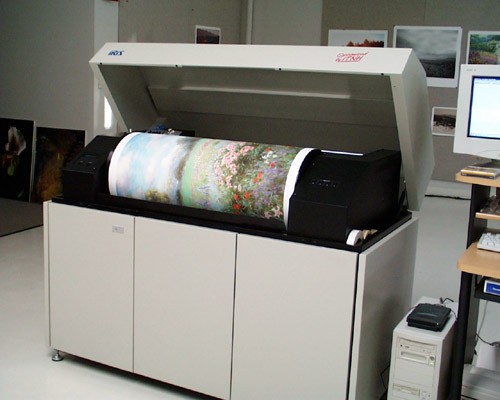 Common Uses for this Format
Posters
Large format printing allows for the creation of a wide variety of posters. The designs can vary with customer preference. Compared to radio or television, they are cost-effective and have a significant audience-impact.
Banners
Banners are an extremely effective form of advertising, and large format digital print is a great choice for making banners. At Custom Printing, we can produce the most affordable, high-quality banners.
Window Clings
Do you experience a lot of foot traffic in front of your business? If the answer is yes, don't hesitate to put up a window cling to advertise to passing traffic. From advertising current sales or specials, to communicating essential information on the standard products or services that your business can provide, these marketing materials can be a major benefit to your business.
Other products suitable for large format printing
Tradeshow Signage
Point of Purchase Displays
Wall and Floor Graphics
Yard Signs
Construction sign prints
Environmental graphics
Architectural designs
Large-format photo prints
Merchandise backdrops and POP displays
Vehicle wraps
Window graphics
Blueprint printing
Types of Large Format Printing
Aqueous Ink Printing
The UV or dye is used in aqueous ink printmaking. UV ink is resistant to UV light, and is designed for outdoor applications. The coated materials hold the ink better and can produce the most beautiful prints.
Non-Water-Based Ink Printing
This is the most suitable form of print for indoor applications, as it yields more durable prints. Solvents are used to print on non-paper materials such as ceramics, glass, wood, and metal.
The Large Format Printing We Provide
At Custom Printing Inc, we offer the best large digital prints. We are committed to delivering quality, wide format prints, reinforcing our belief that quality always comes before quantity. We understand the need for growing your business to the next level, which is why we can customize any large print with that unique message you want to expose to potential customers. Our team of experts works together to use their skills and experience to create an attractive print.
Our printers are capable of printing on paper and vinyl, and we can guarantee you that our prints withstand conditions such as heat, sunlight, and rain. You can request any product since our large format digital printer create almost all type of graphic designs. Contact us today to speak with a member of our staff, and to discuss any questions that you have.