Digital photos are more common than ever before. Whether you took the photos with your smartphone or you had a professional take them, they live on your computer as digital files. You may need to have them printed for prosperity, for sharing, or for marketing. Either way, it brings you to an important question: what is the best type of digital photo printing?
At Custom Printing, Inc., we have been printing photos for decades. There are several printing methods that you should be aware of.
Types of Mediums
Before we get into the printing methods, it's important to know that there are many mediums that you can use. What do you want your photo printed on?
Some of the most common options include:
Paper

Canvas

Metal

Acrylic
You can choose a traditional or an alternative printing surface. It can allow you to choose matte and glossy options. Much of it will depend on what kind of presentation you are looking for and how you plan on displaying the photos.
If you plan on sharing the photos or framing them, paper may be the best way to go. If you want to frame or simply hang on your wall, canvas can be a consideration. And, if you want an impressive alternative that goes directly on the wall (and looks like it could go in a gallery), metal can be a fun option. Additionally, acrylic can offer vibrant colors and a sleek finish.
Once you decide on the medium, it will lead to the ways in which you can present it. Each type of medium can offer unique solutions so that you have a stunning presentation of the photo. By working with a professional printer, you can learn the presentation options for each type of medium.
Inkjet Printing
One of the most common ways to produce prints, either at home or with a professional, is through inkjet printing. Essentially, wet ink is used on the medium in order to produce the image. In most instances, only a thin layer of ink is used to avoid bleeding as well as to ensure that the image dries quickly.
Depending on the type of inkjet printer, the number of colors can be limited. More sophisticated printers can use multiple colors of ink to ensure that any color can be achieved.
If you choose to have a digital image printed using inkjet, find out how many ink cartridges are used and what the maximum printable resolution is. Wide-format printers can typically print as large as you could possibly want whereas home printers may limit you to 11" or maybe up to 17."
Digital Printing
It is possible to produce prints using digital printing. The technology is significantly different from inkjet printing because the image is digitally created using toner. While digital printing is faster and can produce prints more affordably, you don't typically get the same range of colors. This means that you may not be able to recreate the original photo to the fullest. If you're printing the image for the purposes of a catalog or a photo booklet, it may not be a big deal. However, you will be limited by the vibrant colors that can be produced – and much of that has to do with the way in which toner is applied to the medium in comparison to wet ink.
High-Quality Lithography
Beyond inkjet and digital printing is high-quality lithography. This is similar to inkjet printing only in that wet ink is utilized. However, the print isn't produced simply by hitting print on a primer. Instead, a metal plate or flexible piece of plastic is created so that it helps with the transferring process.
The technique used in lithography involves immiscibility, which is the non-mixing quality of water and oil. It can produce the highest quality of printing and offers an incredible selection of colors. You can also utilize neon and metallic colors that you wouldn't find in any other type of printing service.
Offset lithography has been around for decades and remains a popular choice for photo printing because of the color produced in every print.
What to Look for When Printing Digital Images
When you are printing digital images, there are a few things beyond the type of photo printing and the medium that you will want to consider.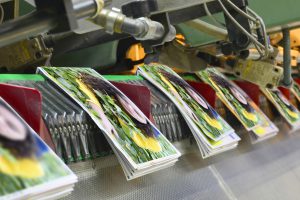 First, consider the size in which you want your photo printed. While virtually any printer can provide you with prints that are 8×10 and smaller, it gets increasingly harder to find professional printers the larger you go.
If you want a large print, you'll want to make sure that you work with a printer capable of producing wide format printing.
Second, consider the quantity. High-volume printing can be cost-effective when you work with a professional. If you need dozens (or even hundreds) of a particular image printed off, be sure that the printer is capable of meeting your needs. Otherwise, the quality may begin to suffer after the first couple of prints that are produced.
Finally, don't be afraid to ask for samples. Look at a few of the different types of printing methods and how a photo looks on paper versus canvas versus metal versus acrylic. Once you pay to have something printed, you don't want to have to pay again just because you didn't have it printed on the right medium, to begin with. A good printer should work with you and offer suggestions throughout the process.
How to Choose a Printer
What is the best type of digital printing? There is no right answer for this because it is heavily dependent on what you're doing with the photo and how you want it to be presented.
Whether you want your photo mass-produced on matte paper or you want it beautifully printed on large-scale canvas, you need to find a printer that is capable of producing it for you.
Find out what kind of equipment a printer has. Learn about such things as color quality, resolution, and mediums they work with. This will make it easier for you to gain confidence in a printer's ability to produce what you want.
At Custom Printing, Inc., we have been printing since 1975. Our quality lithographers can produce stunning photos for you on paper, metal, canvas, and more. We have a large selection of papers and mediums so that you can determine what will look the best. We can also make recommendations based on what is being printed and how you want to display it.
Learn more about our digital photo printing services and get a quote by contacting us at Custom Printing today.