Ordering a marketing banner can be a great way to promote your brand, a service, or even a
special event
. Before you submit your
design to the printer
, there are quite a few things to consider. After all, you want to be sure that your print marketing efforts are maximized.
#1: Understand the Purpose of the Banner
There may be all sorts of reasons to hang a banner. Before you order one, be sure you know why you need it. This way, you can be sure that it accomplishes a specific goal.
Reasons can vary dramatically:
Draw a crowd
Promote a product or service
Say 'thank you'
Reach traffic
Promote a sponsor
Whatever the reason, it will help you to answer some of the important questions when ordering a banner. You'll be able to decide what colors should be used, how large it should be, and more.
#2: Consider the Text
There are a lot of things that have to be considered with the text. You need to use a large enough text that it can be read from a distance. If people have to stand right in front to read what it says, most people won't take the time to read it. The text has to be large. The further people will be from the banner, the larger the text point has to be. Indoor banners should be in a text point of 50 or higher while outdoor banners might need to be at a text point of 250 or higher.
You also have to choose a bold, readable font. While some fonts might look great on a flyer or on a book cover, they might not look so great. People have to be able to make sense of what it says in a matter of seconds. The kerning of some fonts makes it hard to distinguish where one letter stops and another one starts.
Often, it's best to choose a sans-serif font. Many typefaces will have a finishing stroke attached to the letter, known as a serif. Choosing a font without such a stroke will lead to better legibility. There are exceptions to the rule (like Times New Roman), so it's best to test out a few before you go to print.

#3: Use High-Quality Images
You don't want to depend solely on text. Graphics and photos can be a great way to attract attention. Just as the size of the font matters, so does the resolution of the images.
If you choose a low-quality image, it will start to pixelate when you enlarge it on a banner. Once you decide on the size, it can be advantageous to ask what the recommended resolution is for your images. It ensures that everything looks great, regardless of the distance your banners are being viewed from.
#4: Keep Your Message Simple
Banners have to be kept simple. Focus on copy that is short, sweet, and to the point. Use a combination of text and graphics to turn heads and meet your marketing goal.
You can use bold text and headlines to help you make the most of a sign. Consider contrasting colors to make a few statements without making it hard to read.
Don't overwhelm with too much contact information – choose one way for people to contact you on the banner. Otherwise, phone numbers, addresses, websites, and more will eat up all of the important real estate of your banner. A QR code can be a great way to drive traffic to a site. Let people scan the code with their phones to be brought to a website where all of your contact information is provided.
Larger banners don't necessarily mean that you can have more content. It simply means that everything should be sized larger.
#5: Explore Color Psychology
Color combinations are important. Not only do you want to play to your brand, but you also want to consider the types of emotions you want to evoke.
Colors are often subjectively based on culture, specific causes, and more. You should know a little bit about your target audience before you start randomly choosing colors for the text on your banner.
Understanding a bit of color psychology can help you choose the best colors to make an impact. For example, red is associated with passion and excitement. Yellow is associated with happiness and optimism. Blue is associated with safety and masculinity. Be sure that the colors you choose are sending the right message.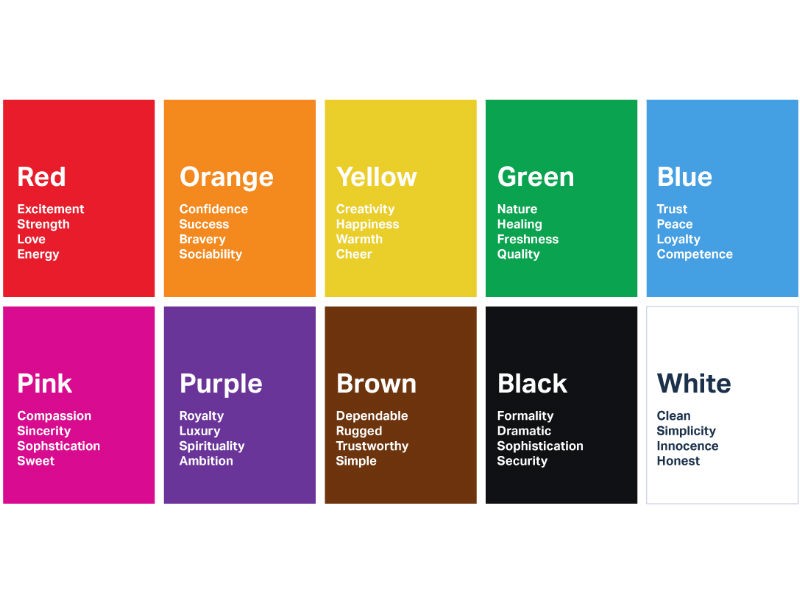 #6: Determine Where the Banner Will Be Hung
As you consider where it will hang, it allows you to consider such things as:
Weather conditions
Materials
Mount options
Your banner can be printed on lightweight and heavyweight vinyl. Understanding the weight will help you to determine mounting options. Heavier banners should have grommets added to help you with hanging.
Further, is the banner being hung from a building? On a fence? Understanding how the banner will be hung is just as important as determining where it will be hung. Once you know more about the hanging instructions, you can ensure the necessary holes, attachments, and hardware are ordered with your banner. Stabilizers, too, can ensure that the banner isn't bending and twisting while it's hanging (especially when hanging from a ceiling).
#7: Consider Sizing and Orientation
The reality is that your banner can be displayed in a variety of ways. When you know where it will be hung, it is easier to decide on the size. Some banners can be created that are 10', 20', and longer. Based on the height at which they're being hung, you need to make sure they're legible.
The orientation, too, is a top consideration. The text can be displayed vertically or horizontally. Similarly, the banner can be set to hang in either direction. Particularly when banners are being mounted high, it can be advantageous for them to hang vertically. This can also help to create walls and unique dividers.
Order Quality Banners You Can Depend On
A quality banner should be able to meet all your needs. Not only should it be colorful and durable, but it should also be usable for as long as you need it. At Custom Printing, Inc., we have the experience and the high-end equipment to help you with all of your commercial printing needs.
We have a tradition of quality and service since 1975. Beyond providing printing services, we can make recommendations to ensure you get the marketing banner you can depend on.
Contact us today to learn more about getting a custom-printed banner that is affordable and of the highest quality.